Orthodontic Appliances
Removable appliances are usually used to keep your teeth in the new, correct positions after your braces have been removed. Some removable appliances are also used before orthodontic treatment to stimulate jaw growth and change your facial skeletal structure.
Bionator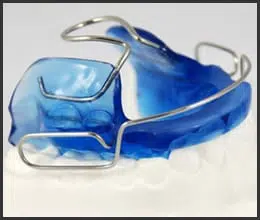 The Bionator is a removable appliance used to help correct an
"overbite"
by promoting lower jaw growth. In cases where it is appropriate to use this appliance, it will be part of the beginning phase of orthodontic treatment. Since a Bionator is primarily an orthopedic appliance, which influences the growth of bone, the appliance should be used during a period of maximum growth. Generally, the younger the patient's age when it is used, the more change observed over a period of growth.
Palatal Expander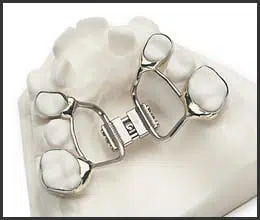 The palatal expander "expands" (widens) your upper jaw by putting gentle pressure on your upper molars each time an adjustment is made.
Dr. Milestone
will instruct you about when and how to adjust your expander. Typically expansion occurs over one month. The screw is turned each day with the special tool provided by our office widening the upper arch as it expands. When the desired result is achieved, you will wear the appliance for several months to solidify the expansion and to prevent regression.
Types of Retainers
Retainers may be removable or fixed. They hold your teeth in their new, correct positions after your teeth have been straightened. Dr. Milestone will instruct you on how to care for your retainer and about the duration of the wear. When we remove your braces, we will begin the retention stage of your treatment. Your final orthodontic result depends on wearing your removable retainers, so follow through with the hard work you've put in so far. Please wear your removable appliance as prescribed, and remember to remove your retainer before brushing. You should also brush your retainer before placing it back in your mouth (Hawley and Clear Retainers).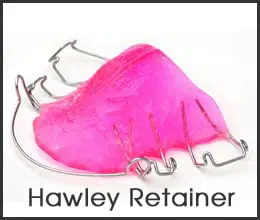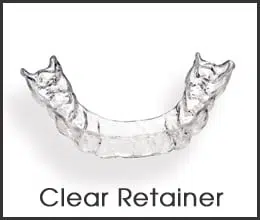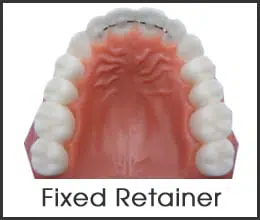 An entirely different category of orthodontic retainers are fixed retainers. Wires are often bonded to the back of the upper and lower front teeth following orthodontic treatment. These fixed retention wires are designed to maintain the alignment of the anterior teeth 24 hours a day. This allows for reduced time while wearing removable retainers each day and then usually can be limited to night time only.