Choosing the right orthodontist when it comes to orthodontic treatment is important. In Saddle Brook, New Jersey, residents are lucky to have easy access to Milestone Orthodontics, a renowned center offering excellent orthodontic care and achieving outstanding oral health milestones. Milestone Orthodontics, under the expert guidance of Dr. Matthew Milestone, an orthodontist with years of experience and expertise, provides a broad range of treatment options customized to satisfy the needs of patients of all ages. Let's explore the scope of orthodontist Saddle Brook, NJ, and the excellent treatment Milestone Orthodontics offers.
What is Orthodontics?
Orthodontics is a specialized branch of dentistry that tries to correct misaligned teeth and jaws. To achieve outstanding dental health and a beautiful smile, striking the right balance between functionality and attractiveness is crucial. Orthodontic treatment progressively moves teeth into proper positions using various instruments, such as braces, aligners, and retainers. As a result, your smile, dental health, and overall well-being improve.
Comprehensive Orthodontic Services:
Milestone Orthodontics offers a wide range of orthodontic therapies to meet each patient's particular needs. To create individualized treatment programs that will produce the best outcomes, their staff and team of skilled orthodontists work closely with patients. Milestone Orthodontics offers the expertise to assist you in achieving your goal for a straighter smile, whether you need braces or Invisalign in Paramus, NJ.
Braces:
Traditional metal braces are a popular choice for individuals of all ages. Milestone Orthodontics offers high-quality metal braces with effective and comfortable designs. Their orthodontists will carefully consider your demands as they design a personalized treatment plan to straighten your teeth and address any bite problems.
Clear Aligners:
Milestone Orthodontics offers invisible aligners like Invisalign, looking for a more discreet option. These nearly invisible aligners are designed specifically for you to suit your teeth and gradually move them into the desired position. Without traditional braces, clear aligners can help you create a beautiful smile.
Early Orthodontic Treatment:
Milestone Orthodontics understands how crucial early treatment is for treating orthodontic problems. They offer young children orthodontic treatment to address common problems like crowding, crossbites, and protruding teeth. Milestone Orthodontics helps children develop normal jaw alignment and avoid more complicated problems by identifying and correcting these problems early.
Adult Orthodontics:
Many adults also want a straighter smile, and Milestone Orthodontics offers specialized treatments for adults, considering their particular needs and lifestyle. Whether you select traditional braces or clear aligners, their orthodontists will create a treatment plan that fits your goals and schedule.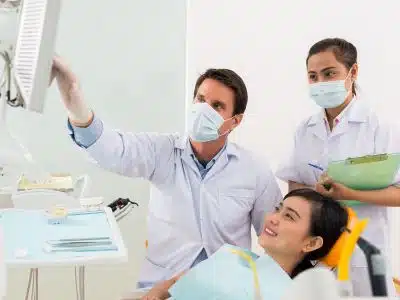 Customized Treatment Plans
Every patient at Milestone Orthodontics receives specialized treatment. Dr. Milestone and his staff take the time to understand each patient's particular needs, issues, and treatment objectives. They conduct thorough evaluations, including 3D imaging and digital X-rays, to develop individualized treatment plans that provide the best results. Every patient's orthodontic journey is comfortable and unique because of the practice's patient-centered approach.
Patient-Centric Approach
The happiness of our patients is the primary focus at Milestone Orthodontics. The pleasant environment is created by friendly staff, making patients feel at ease throughout their orthodontic journey. The orthodontists take the time to hear the patient's worries, respond to their inquiries, and inform them about the options for treatment. This patient-centered strategy ensures that each person receives individualized treatment and gets the desired results.
Convenience and Accessibility
Located in Saddle Brook, NJ, Milestone Orthodontics is conveniently accessible to residents of the surrounding areas. The practice offers flexible appointment hours, including evenings and weekends, to accommodate patients' busy schedules. With a commitment to providing high-quality orthodontic care, Milestone Orthodontics strives to make the treatment process as convenient and stress-free as possible.
Conclusion
Milestone Orthodontics is the ultimate destination for those in Saddle Brook, NJ, seeking top-quality orthodontic care. Dr. Matthew Milestone and his team are committed to helping patients of all ages achieve beautiful, healthy smiles through personalized treatment plans and the latest orthodontic techniques. With a patient-centered approach and a focus on community involvement, Milestone Orthodontics stands out as a trusted and reputable orthodontic practice in the Saddle Brook area. Schedule a consultation today and take the first step toward your dream smile.