You might be asking yourself, "How do I stop my braces from hurting?" Braces can be uncomfortable for the first few days or weeks after you get them, but there are a few things that you can do to make them more comfortable. We will give you five pain-free tips to make your braces more bearable.
How Do I Stop My Braces from Hurting?
#1 – Eat Soft Foods
For the first few days after you get your braces in Paramus, it is best to eat soft foods that are easy to chew. Think about foods like soup, mashed potatoes, macaroni and cheese, yogurt, ice cream, pudding, etc. You will want to stay away from hard foods that can cause pain or irritation when you bite into them, like chips, pretzels, hard candy, etc.
#2 – Use a Braces Wax or Mouth Guard
If you are finding that your braces are rubbing against the inside of your mouth and causing irritation, you can try using a braces wax or mouth guard. You can usually find these products at your local drug store.
To use braces wax, simply place a small piece of the wax on the part of your braces that is causing irritation. The wax will create a barrier between your braces and your mouth, and it will help to protect your mouth from further irritation.
If you are using a mouth guard, you will want to put it on before you go to bed at night. It will help to protect your teeth and gums from the braces while you are sleeping.
#3 – Take Over-the-Counter Pain Medication
If you are in a lot of pain, you can take over-the-counter pain medication like ibuprofen or acetaminophen. These medications will help to reduce the inflammation and pain that is associated with braces.
You can also ask your dentist or orthodontist for a pain medication prescription. They may be able to prescribe a stronger pain medication for you if the over-the-counter medications are not working.
#4 – Rinse with Warm Salt Water
If your braces are causing irritation in your mouth, you can try rinsing with warm salt water. This will help to reduce the inflammation and pain in your mouth.
To make a salt water rinse, mix one teaspoon of salt into a cup of warm water. Swish the solution around in your mouth for 30 seconds before spitting it out.
You can do this several times a day, or as needed.
#5 – Apply a Cold Compress to Your Cheek
If you are experiencing pain in your jaw from your braces, you can try applying a cold compress to your face. This will help to reduce the inflammation and pain in your jaw.
To make a cold compress, simply wrap an ice pack or bag of frozen peas in a towel. Apply it to the outside of your cheek for 15-20 minutes at a time.
You can do this several times a day, or as needed.
When do Braces Stop Hurting?
Most people find that their braces stop hurting after a few days or weeks. However, it is different for everyone. Some people may experience discomfort from their braces for several months.
If you are still experiencing pain from your braces after a few weeks, you should make an appointment to see your orthodontist. They will be able to make adjustments to your braces and help you find ways to reduce the discomfort.
If you still find braces painful for you, there are other orthodontic treatments that may be a better option for you, like Invisalign. It's a system of using clear aligner trays that you wear onto your teeth instead of metal wires and brackets.
You can also opt for  LightForce Orthodontics, which is an entirely digital orthodontics system, offering customizable braces for every smile. Speak with your orthodontist about whether Invisalign would be a good option for you.
Braces in West Orange & Paramus, New Jersey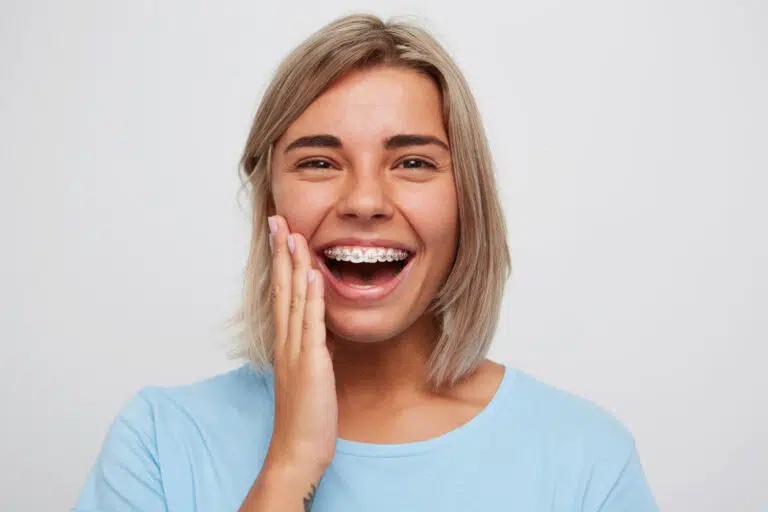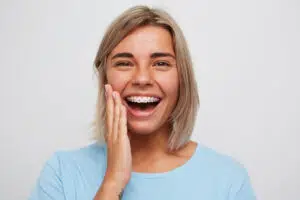 While braces are already popular and efficient, finding a good doctor can make all the difference in how much discomfort you experience. At Milestone Orthodontics in New Jersey, we strive to make the process as smooth and painless as possible for all our patients.
If you are in need of braces or other orthodontic treatment in West Orange, Paramus, or other neighboring areas, contact us and schedule a consultation with Dr. Matthew Milestone today! We offer a complimentary exam or a free virtual consultation to see how we can best serve you.
Dr. Milestone continues to look to the future to build a practice where patients feel comfortable and happy. He believes the only way to treat a patient is to treat them as if they are family. He vows to keep a personal experience for each patient even as he continues to grow the practice.
Call us at (201) 806-6581 – Paramus Office or (973) 354-5597 – West Orange office or visit our website to learn more and schedule an appointment.