Get a free orthodontic virtual consultation with the top 
award-winning orthodontist
 serving Paramus and West Orange, New Jersey. 
More of us are staying at home and practicing social distancing, but that doesn't have to stop your plans for a better future. Today, it's the perfect time to pursue telemedicine orthodontic treatment from the comfort of home. With a free orthodontic virtual consultation, you can get answers to important questions, such as:
Would Invisalign treatment work for me?

Would I be better served by modern braces?

How long will treatment take?

Is treatment affordable?

What can I expect during treatment?
Although not a substitute for an in-person exam, an orthodontic virtual consultation can provide answers to questions like these. Then, you'll be well-informed and motivated to begin treatment at a later date when you're ready. 
Get started with your orthodontic virtual consultation here.
Orthodontic Virtual Consultations are Easy!
Dr. Milestone, a top Invisalign provider in New Jersey, has treated thousands of patients for over three decades. Each of them received the best quality care and results: perfect smiles for a lifetime. Now, you can easily consult with Dr. Milestone conveniently from wherever you are – staying safe at home.
To begin, start your orthodontic virtual consultation here. Or, just click on the blue button at the bottom right of our website that reads, "Start Your Virtual Appointment." Then, a pop-up screen will appear that looks like the screenshot below: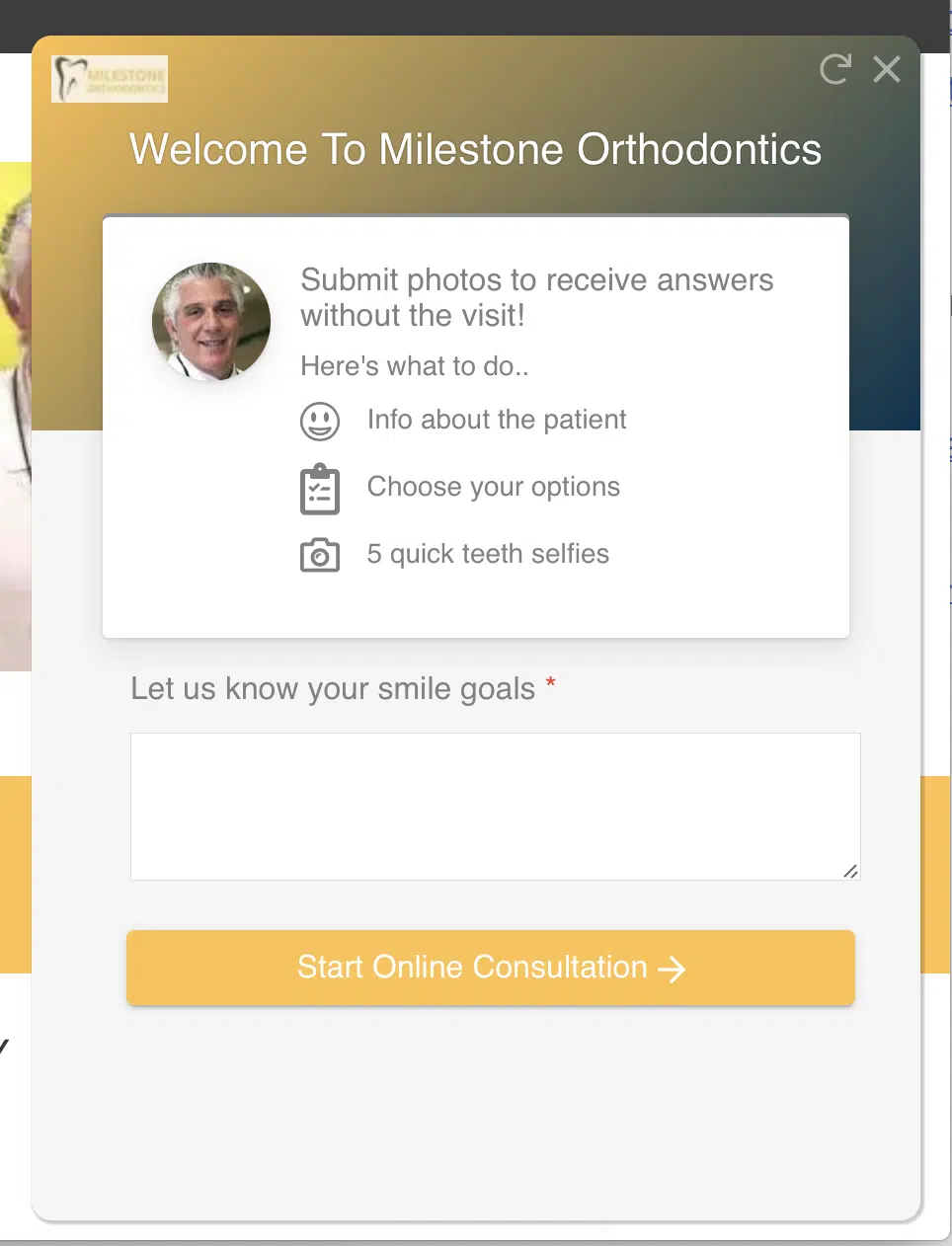 Then, you'll enter some information and submit five photos of your smile. All you need is a smartphone, digital camera, or webcam, and there are easy instructions to get the best shots. Wallah! That's all there is to it, and soon, Dr. Milestone will contact you with his free smile assessment. It's never been easier to plan for a better future with more smiles.
Get started with your orthodontic virtual consultation here.
https://www.instagram.com/p/B_pio6giJ1g/
Live Telemedicine Appointments for Emergencies
For our existing patients, we are currently offering video consultations for emergencies with Dr. Milestone. At the top of our website, click on the white text in the yellow header that reads, "Click here For a Live Telemedicine Appointment with Dr. Milestone." Then, you can chat live to discuss any concerns and questions as we practice social distancing.
Note: There is also a pop-up screen at the bottom right of the screen to start your telemedicine call.
Rest assured, we will always remain available to respond to emergencies. Contact us anytime at (201) 845-8411 for our Paramus office, or (973) 325-1777 for West Orange. We look forward to helping you reach your dreams of a perfect smile!
Follow us on Instagram and Facebook for all the latest updates.
https://www.instagram.com/p/B-Z24-wC1YC/