Are you looking for a reliable orthodontist in Rutherford, NJ, who can help you achieve a beautiful and confident smile? Look no further! We specialize in providing outstanding orthodontic care, including braces Rutherford NJ, to patients of all ages at our conveniently located in Paramus and West Orange, NJ. In order to give you the smile of your dreams, our team of skilled orthodontists combines state-of-the-art technology with personalized treatment plans. In this blog post, we'll discuss the advantages of braces and how our orthodontist Paramus, NJ, can give you a straighter, happier smile.
What are Braces?
Braces are dental appliances used to treat orthodontic problems such as misaligned teeth, misaligned jaws, and others. They comprise various parts, such as brackets, wires, and elastic bands, which combine to force the teeth into their right locations over time gently. Braces efficiently shift the teeth by using regulated forces, resulting in an aligned bite and a more attractive smile.
Braces are the most common form of orthodontic treatment. Dr. Matthew Milestone and the team at Milestone Orthodontics offer different types of braces near Rutherford NJ for our patients to choose from. Luckily, traditional metal braces aren't the only option to choose from, anymore!
Types of Braces:
At Milestone Orthodontics, Patients in Rutherford, New Jersey, can take advantage of various braces choices customized to their unique requirements. Many common types of braces are listed below:
Traditional Metal Braces:
Traditional metal braces are the most common and recognizable type. They are made of metal brackets wired together and stuck to the teeth. Metal braces are sturdy and effective, but they also allow patients to express themselves by offering colored elastic bands to customize their appearance.
Ceramic Braces:
While using tooth-colored or transparent ceramic brackets, ceramic braces are similar to traditional metal braces in look. This makes them less noticeable and more visually pleasant, especially for individuals concerned about how their braces look during treatment.
Invisalign:
As an Invisalign provider, Milestone Orthodontics offers clear aligners as an alternative to traditional braces in Paramus NJ. Clear aligners made to order and worn over time make up the Invisalign treatment. Maintaining dental hygiene is easier, and eating is not restricted as they are removable. Invisalign is an excellent option for adults and teens looking for a discreet orthodontic treatment option.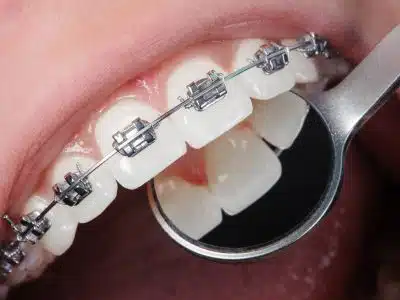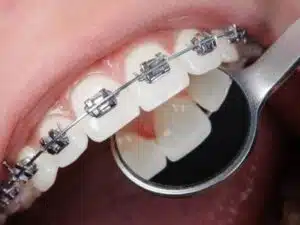 Why Pursue Braces?
Most people decide to pursue braces near Rutherford NJ because they have crooked teeth or a misaligned bite. Dr. Mathew and the team at Milestone Orthodontics know that beautiful teeth can have a profound impact on a person's confidence. Be sure to contact us, today, to begin the journey to your most beautiful smile!
The practice offers comprehensive orthodontic services, including:
Initial consultations:
Milestone Orthodontics offers extensive evaluations and consultations to identify each patient's suitable course of treatment. They ensure a personalized approach by paying special attention to the issues and goals of their patients.
Installation and modifications of braces:
Milestone Orthodontics is experienced in every aspect of orthodontic treatment, whether you opt for metal braces, ceramic braces, or Invisalign. They expertly place braces and carry out routine adjustments to ensure that your treatment goes effectively.
Retention:
To maintain the results achieved after braces have been removed, the team at Milestone Orthodontics offers retainers. To keep teeth from shifting back to their original positions, retainers are necessary.
Conclusion
Milestone Orthodontics is your go-to provider of orthodontic care if you live in Rutherford, New Jersey. They provide various braces options, including metal braces, ceramic braces, and Invisalign, at their convenient locations in Paramus and West Orange, NJ. You may have a straight, healthy smile that will increase your confidence for years to come under the competent guidance of Dr. Milestone and his committed staff. Schedule a consultation with Milestone Orthodontics immediately to start your journey to a beautiful smile!
If you have any questions pertaining to braces, clear braces, Invisalign, or Invisalign Teen in Rutherford NJ, Paramus, NJ, Saddle Brook NJ, Passaic NJ, Bergen County NJ, or the 07070 area, OR would like to schedule a complimentary consultation with Dr. Milestone, contact Milestone Orthodontics at: (201) 845-8411.