A beautiful smile can enhance one's confidence and leave a lasting impression. If you're looking to improve your smile and oral health, Milestone Orthodontics is here to help. As a leading orthodontic practice serving Verona, NJ, Milestone Orthodontics offers a wide range of treatments, including Invisalign, braces, orthognathic surgery, early treatment, adult treatment, and Lightforce Orthodontics. With their expertise and dedication to patient care, they have become a trusted name in orthodontist Verona NJ. In this blog post, we will explore the world of orthodontics, introduce you to Dr. Mathew Milestone, and highlight the exceptional treatments provided by Orthodontist Paramus NJ.
What is an Orthodontist?
An orthodontist is a dental professional specializing in identifying, avoiding, and resolving abnormalities and misalignments of the teeth and jaws. After dental school, they undergo extra training for several years to gain the knowledge and abilities required for this specialized sector. Orthodontists are specialists in identifying various dental and facial irregularities and developing customized treatment plans to address them properly.
Meet Dr. Mathew Milestone:
At Milestone Orthodontics, Dr. Mathew Milestone is the trusted orthodontist who leads the practice. Dr. Milestone obtained his dental degree from the prestigious University of Medicine and Dentistry of New Jersey. Afterward, he completed his orthodontic residency at Fairleigh Dickinson University, where he earned a Certificate in Orthodontics and Dentofacial Orthopedics.
Dr. Milestone's passion for orthodontics drives him to provide exceptional care to his patients. He keeps up with the latest advancements in the field, allowing him to offer cutting-edge treatments and techniques. Dr. Milestone is a member of several professional organizations, including the American Association of Orthodontists, the Northeastern Society of Orthodontists, and the American Dental Association.
Treatment Offered by Milestone Orthodontics:
Invisalign:
Milestone Orthodontics, located in Verona, NJ, is proud to be a premier Invisalign in Paramus, NJ, offering a revolutionary alternative to traditional braces. Invisalign uses a series of clear, removable aligners to gradually shift teeth into their desired positions. This discreet treatment option is popular among adults and teenagers who desire a virtually invisible orthodontic solution.
Braces:
Traditional braces remain one of the most effective and widely used orthodontic treatments. Milestone Orthodontics offers various types of braces in Verona, including metal braces, ceramic braces, and self-ligating braces. These options cater to different patient needs, providing efficient and reliable teeth straightening solutions.
Orthognathic Surgery:
In some cases, orthodontic treatment alone may not be sufficient to correct significant jaw irregularities. Dr. Milestone collaborates with oral surgeons to perform orthognathic surgery, which can improve jaw alignment, facial symmetry, and overall oral health. This comprehensive approach ensures optimal results for patients requiring surgical intervention.
Early Treatment:
Early intervention is crucial for children with developing orthodontic issues. Milestone Orthodontics offers early treatment options to address problems such as crowding, crossbites, and protruding teeth. Starting orthodontic treatment at an early age can help guide jaw growth and prevent more severe issues later in life.
Adult Treatment:
It's never too late to achieve the smile you've always wanted. Milestone Orthodontics understands the unique needs of adult patients and offers tailored treatment plans to address their concerns. Whether you prefer Invisalign or traditional braces, their expertise ensures optimal results while considering the aesthetics and comfort desired by adult patients.
Lightforce Orthodontics:
Milestone Orthodontics is proud to utilize state-of-the-art technology like Lightforce braces. Lightforce Orthodontics combines 3D printing and robotics to create custom brackets and wires unique to each patient. This cutting-edge technology streamlines the treatment process, reduces treatment time, and provides more precise results.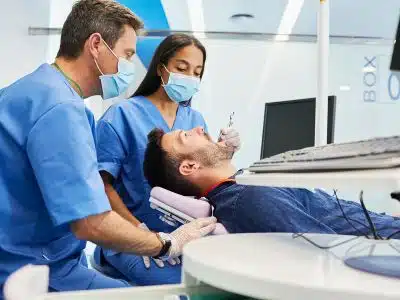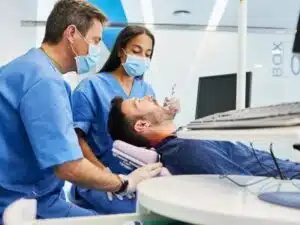 Why Choose Milestone Orthodontics?
Expertise and Experience:
With Dr. Mathew Milestone at the helm, Milestone Orthodontics offers the highest level of expertise and experience. Dr. Milestone stays abreast of the latest advancements in orthodontics to ensure his patients receive the most innovative and effective treatments available.
Personalized Treatment:
Milestone Orthodontics believes in personalized care. Each patient is unique, and their treatment plans reflect their specific needs and goals. The team takes the time to listen to their patients, addressing any concerns and ensuring a comfortable and rewarding orthodontic journey.
Welcoming Atmosphere:
At Milestone Orthodontics, customer satisfaction and patient comfort are our primary concerns. The office's warm and welcoming atmosphere makes Every patient feel at ease throughout their appointments. The friendly staff is committed to offering exceptional care and support throughout the treatment process.
Convenient Locations:
With two convenient locations in Paramus and West Orange, Milestone Orthodontics is easily accessible to Verona residents. Their offices are conveniently placed, so you may save time and travel whether you require a routine checkup or a more extensive orthodontic treatment.
Conclusion:
If you're searching for an experienced orthodontist Verona NJ, look no further than Milestone Orthodontics. Dr. Mathew Milestone and his passionate staff are committed to improving oral health and transforming smiles. Milestone Orthodontics provides individualized care and excellent outcomes with a variety of treatment options, including Invisalign, braces, orthognathic surgery, early treatment, adult treatment, and Lightforce Orthodontics. Schedule an appointment for a consultation at Milestone Orthodontics to take the first step toward achieving the perfect smile.